CI Membership – CodeIgniter Membership Script v1.3.2 released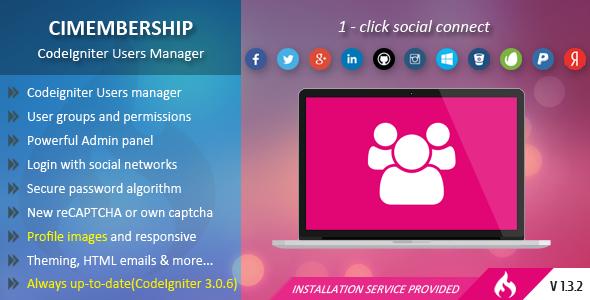 After several months of hard work, we are pleased to announce that we have released the newest version of our codeigniter membership script "CIMembership v1.3.2" with lots of code improvements, features and latest version of CodeIgniter Framework.

CIMembership is a CodeIgniter 3.0.6 based, fully featured ACL and Membership Management Script with variety of options, like installer, user groups management, user levels and permissions, social media logins(facebook, twitter, google plus, linkedin, github, instagram, windows, envato, bitbucket, paypal and yandex), powerful admin panel, HMVC Modular Extension, PHPass password algorithm, google No CAPTCHA reCAPTCHA or own captcha, email verification, html emails, responsive, custom profile images & more.
Why choose "CIMembership" among other CodeIgniter Membership scripts:
1. CIMembership is a standalone and secured CodeIgniter Membership Script on Envato market.
2. With our built-in Installer, it is simple to install, use, customize, modify, maintain and update.
3. Our script is always up-to-date with the latest version of CodeIgniter, So you never miss a single advantage or feature from the CodeIgniter core/latest release.
4. Developer can integrate REST or any Kind of API to the system as in Normal CodeIgniter Framework.
5. Clean, standard and optimized code.
6. First CodeIgniter Membership script on the market with HMVC Modular extension.
7. Built with 10+ years experienced developers.
8. Unmeasured, fair and Friendly support to the buyers.
Major Features of CI Membership
1. Built with CodeIgniter 3.0.6, a lightweight PHP framework.
2. Extremely easy to install and use! Just run the Install Wizard
3. Based on codeigniter's HMVC, hence easy to extend
4. Customizable user groups and permissions
5. Secure password algorithm using PHPass
6. E-Mail Verification for new users
7. Password and Username retrieve pages
8. Resend activation link option
9. jQuery and PHP form validations
10. Built with Twitter Bootstrap (CSS framework)
11. Remember login cookies
12. Login with social networks(facebook, twitter, google plus, linkedin, github, instagram, windows, bitbucket, envato, paypal and yandex social logins)
13. New google reCaptcha or custom captcha
14. HTML Emails
15. Powerful admin panel
16. Dashboard for admin panel users
17. General and social login settings on admin panel
18. Create/edit users and user groups via admin panel
19. Logged In users can edit their profile
20. Session are stored on database
21. Theming System
22. Use avatar image on profile(based on user email)
23. Cross-Browser Compatible
24. Responsive on all devices
25. Clean and Solid user management system
26. Best, secure and always up-to-date codeigniter membership script on the web
27. Base platform for any CodeIgniter based web applications and sites.
28. Custom Profile Images(Profile image upload option).
29. Easy to extend and use.
More Details: http://1stcoder.com/product/cimembership-codeigniter-users-manager
Purchase the Script: https://codecanyon.net/item/cimembership-codeigniter-users-manager/13113786